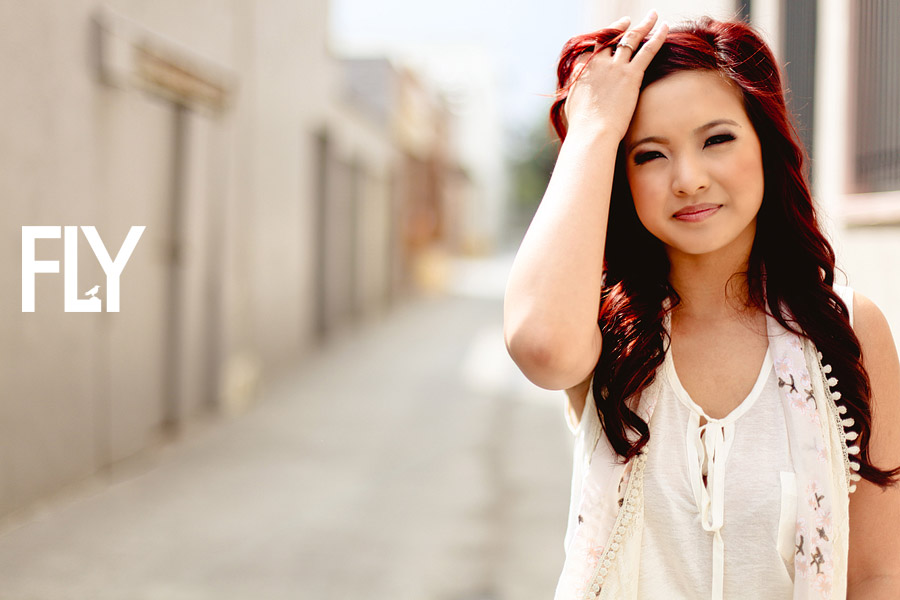 Yvonne is seriously as cute as a button. I want to put her in my pocket. And man.. this girl can rock it out. Her shoot was way fun, and she was such an amazing poser and yet so natural ad fun and goofy. After a visit with Bree, my stylist at the Grand Salon in Brea, Yvonne and I headed all the way down to Pasadena for her Senior Portraits. When we initially met up to discuss her shoot, we talked about an urban environment with lots of textures and interesting color. Having recently photographed in Pasadena, I had noticed all sorts of areas I had yet to explore, and it just felt so exactly right for Yvonne to be photographed in this urban yet old world looking, super cool area. A  perfect location for this cute little fashionista.
Yvonne is one of those inspirational Seniors you hear about. She's intelligent (future Bio-Chem major), beautiful (obviously), funny (see laughing goofy photos), and incredibly socially aware. As the president of a local club at VHS that helps fight Child Abuse, Yvonne, together with a few other Seniors at VHS, is in the middle of planning a huge benefit concert to raise several thousand dollars for her cause. Pretty amazing.
This shoot was so much fun, and Yvonne, thank you so much for being such a fantastic young woman, and for the privileged of getting to photograph you Truly, it was a privilege. I hope you enjoy the rest of your Senior year. I know you will go on to incredible things in the future!!